Lisbon is for lovers… lovers of food and flavor, of mosaic sidewalks and hand-painted tiles, of vibrant color and culture and all the pasteis de nata your stomach can handle.
It's true love, I tell you.
And I can't wait to go back.
While Porto was downright lovely, it was Lisbon that truly stole our hearts and filled our stomachs (or should I say, filled our hearts and stole our stomachs? Either way.)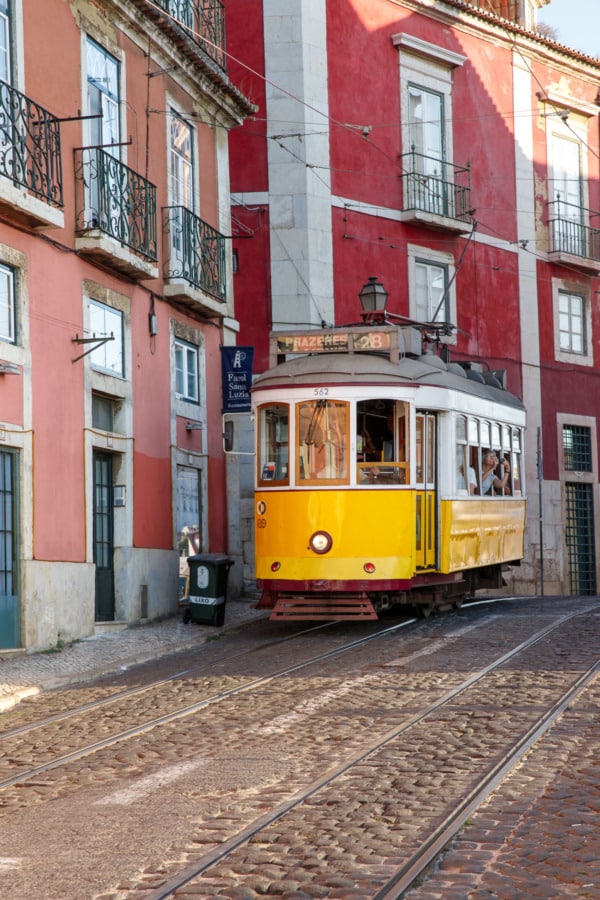 We spent 4 nights in this sunny capital city, friendly and colorful and utterly charming (although the city's iconic 'seven hills' aren't quite so charming when you're verging on hangry and the restaurant you want to go to is at the top of one of aforementioned hills.)
It's actually a lot like San Francisco, considering both cities have crazy steep hills in addition to bustling waterfronts, iconic orange bridges, and colorful historic trams… although that is where the similarities end. For starters, the weather is a whole lot nicer in Lisbon (we visited in mid-September, and while it did get a bit warm towards the end of our trip, overall it was just about perfect).
We took the convenient high speed train from Porto to Lisbon, which deposited us at the Rossio station, a mere 5 minute walk from our hotel (whenever we travel we try to research transportation before we book our hotels and try to find something as convenient as possible, without having to transfer to multiple subway lines, busses or taxis).
Since we were spending a bit longer in Lisbon, we opted to get a customized itinerary from Journy. I've waxed poetic on this amazing service before, but let me say it again: Journy is a traveler's best friend. It will save you the hassle of scouring the internet for the best restaurants, sights and activities. Or, if you're the type that just goes somewhere without spending hours upon hours researching your destination (who are you?!), it'll save you from getting caught in the tourist traps and sub-par restaurants.
And while we strayed from the itinerary quite a bit (we opted to skip the half-day excursion to Belém because, hello lines) it still gave us a solid starting point, and more importantly, plenty of trustworthy food recommendations around which to plan our days.
(Psst! If you want to try Journy for yourself, sign up using my affiliate link and get a free day!)